Just as the saying we always heared in the wedding"Do you want this woman to be married to your wife? Regardless of illness or health, or any other reason, love her, take care of her, respect her, accept her, always loyal to her until life ends."
We all have heared this "Some people like the way you tie your hair, some people like you loosen your hair weave, some people like you wear long curl,but you do not forget that the people who love you really like you all the time no matter what your haistyle is all the time."Although it said this,in fact,there is always any hairstyle especially bangs that won't suit for every girl.Today let's talk about which hairstyle is more suitable for you.
This is their favorite self-reliant they share the most beautiful girl you know pics on forum and beautiful if they can choose a more appropriate haircut they should.
Hair style suitable for different face shapes.
No matter the big eye、good-looking nose and delicate lips, the girl is real brilliant, when we compare the right picture,we can't say that she can be so attractive unexpectedly.What's the reason for this?Yes, haircut, her face is a little long and the long straight hair near her face and not weave cover her forehead makes her face looks longer, while the former photo solves this problem perfectly, the short haircut makes her cute and smart.What do you think of?
Square face maybe looks outstanding, generous and tend to show their confident and calm, in fact, choose more feminine hair just as the right photo can help weaken the edges which looks like more attractive and charming, besides,it helps you become younger than before at least 5 years, why not?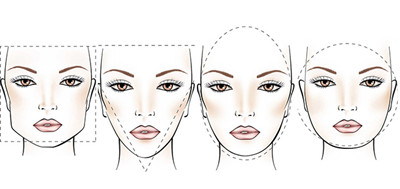 Finally, what's the most suitable hairdo you maybe choose?
If you have a round face, for example, short hairstyles and ponytails will likely only make your face look rounder. A more flattering style would be long layers and/or bangs. Here's the graphic answer of different face shape.
Do you know which shape your face is? Anyway, once you know your face shape, you would choose more flattering haircuts.Alternately,you can continuously explore、keep trying and try more diverse haircut you maybe suit.Eventually, you'll search for the best hairstyle you should.